Therapeutic Massage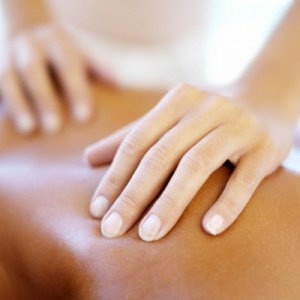 Techniques may include Swedish, deep tissue, sports massage, prenatal, and/or myofascial release. Your therapist will work with you to determine the techniques appropriate for your needs. All of our massages incorporate the healing benefits of aromatherapy through the use of our aromatherapy massage oils.
Seated Chair Massage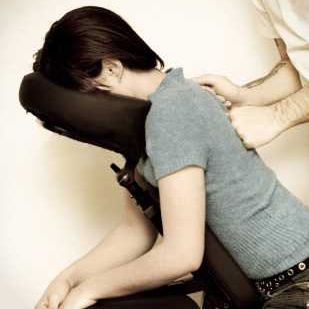 Chair massage focuses on your back, shoulders, neck, arms, and hands. Chair massage is done over clothes and doesn't require any massage oil. You are seated in a special chair with your face resting in a cradle while the therapist relieves muscle tension.
15 Minutes – $25
1 Hour (on site) – $95 + additional surcharge for outside of local area
(We bring our specialty massage chair to your office, event, or party)
Hot Stone Massage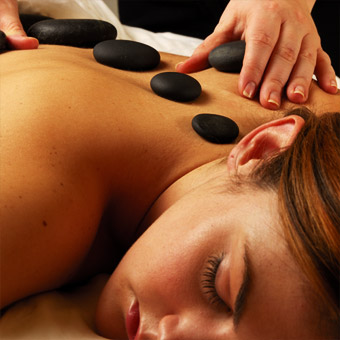 Hot stone massage is a specialty massage where the therapist uses smooth, heated stones, either as an extension of their own hands, or by placing them on the body while they massage other parts of the body. The heat can be both deeply relaxing and help warm up tight muscles so the therapist can work more deeply, more quickly.
Reiki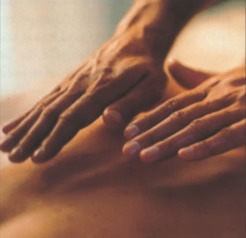 Reiki is a Japanese technique for stress reduction and relaxation that also promotes healing. It is administered by "laying on hands" and is based on the idea that an unseen "life force energy" flows through us and is what causes us to be alive. If one's "life force energy" is low, then we are more likely to get sick or feel stress, and if it is high, we are more capable of being happy and healthy. Reiki treats the whole person including body, emotions, mind and spirit creating many beneficial effects that include relaxation and feelings of peace, security and well being.
Reflexology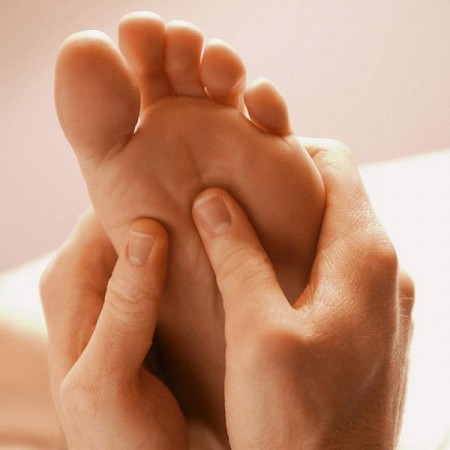 Reflexology sessions consist of an initial assessment of the feet to screen for potential unseen problems, and then massage of the reflex points of the feet. All sessions will incorporate essential oils appropriate to each client and their particular health concerns. Reflexology is a very relaxing treatment, as the hundreds of nerve endings in the foot stimulate and soothe the entire body. It is also a recommended treatment for anyone suffering from foot and ankle problems, individuals with poor peripheral circulation, and anyone wishing to improve their energy level.
Cold Stone Face Massage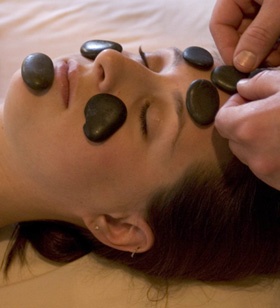 This session utilizes a combination of heat (warm towels infused with essential oils) and cold with chilled stones used in the massage technique. This wonderfully aromatic session is very relaxing and benefits sinus problems, headaches, and generalized tension in the face and scalp.
Combined with a 1 Hour Massage (1½ Hour) – $135
Rejuvenating Face Massage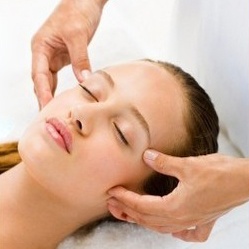 This is a massage technique and is not a "facial". The technique used is a detailed massage therapy protocol that releases muscular adhesions, tones weak muscles, releases tension, increases circulation, lessens the appearance of wrinkles, and improves the complexion. This is also a very relaxing session! It is recommended that this service be done in a series of six consecutive sessions to achieve the best results.
Exfoliation and Paraffin Wrap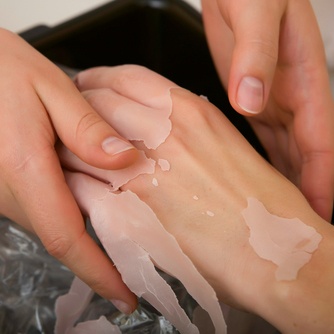 This service utilizes our Invigorating Body Scrub, hot towels, and a sanitary paraffin wrap to alleviate joint pain and leave you with baby soft skin.
Hands or Feet – $15
Both Hands and Feet – $30
Deluxe (45 min) – $70
(This service addresses both the hands and feet, along with reflexology and scalp massage.)
Back Exfoliation Only (No Paraffin) – $10
Manual Lymphatic Drainage
This specialized massage technique is recommended to relieve post-surgical swelling, and swelling that occurs as a result of the lymphatic system not operating efficiently due to illness. This gentle technique works with the lymphatic system to encourage drainage and relieve uncomfortable swelling.
One Hour – $90
Myoskeletal Alignment
(Provided by Marcia only)
Myoskeletal Alignment Techniques (MAT) system brings together the most advanced therapeutic strategies to relieve, and ultimately correct, patterns in the body that lead to pain and deterioration.
Sessions are done fully clothed. It is recommended that this technique be repeated in a series of 2-3 successive sessions.
45 minutes – $100
New Combination Therapies
(Provided by Marcia only)
One hour massage with half hour infrared therapy – $125
One hour myoskeletal alignment with half hour infrared therapy – $175
Massage and Manual Lymphatic Drainage Combo (90 minutes) – $155